What is a Job Board:
Definition, Examples, Benefits
Marty Aghajanyan | January 05, 2023 (updated) | 8 min read
Definition
A job board is a website where employers promote job vacancies, and job seekers find job opportunities based on their preferences.
It makes the recruitment process more straightforward, helping both parties to connect faster and more effectively.
Different job boards offer different features and ways for both employers and potential employees, such as posting directly through job boards or directing candidates to the application placed on the employer's website, browsing the database of job seekers on their platform, etc.
Job boards are mostly used by recruitment companies, HR departments, or individuals looking for a specific professional for long or short-term collaborations.
The History of Job Boards
The history of job boards goes back to the early 1300s when paper manufacturing was first introduced to people. Shortly after this, the first broadsides hit the public places, making all kinds of announcements, including advertising jobs.
With the rise of newspaper publishing around 1695-1700, the first Help Wanted ad appeared on published copies, later becoming an inseparable part of every major newspaper and gazette.
In the 19th century and through the beginning of the 20th, these ads became the most widespread form of recruitment advertising.
From 1995 to 2000, when the Internet became the most important source of information and communication tool, job advertisements moved from newspapers to this online platform.
Brands started to list the vacancies available at their companies on their own websites before the first online job boards began to take control over the job posting industry.
In 1999 one of the first global employment websites, Monster.com, was launched, where employees could find over a million jobs on any given day. During the 2000s, the industry started to grow with the speed of lightning, resulting in the launch of LinkedIn Jobs (2003), Indeed (2004), Glassdoor (2007), and many other job boards.
From then on, the job board industry started to grow faster, generating massive income.
Currently, there are over 50,000 job boards, and the number is still growing.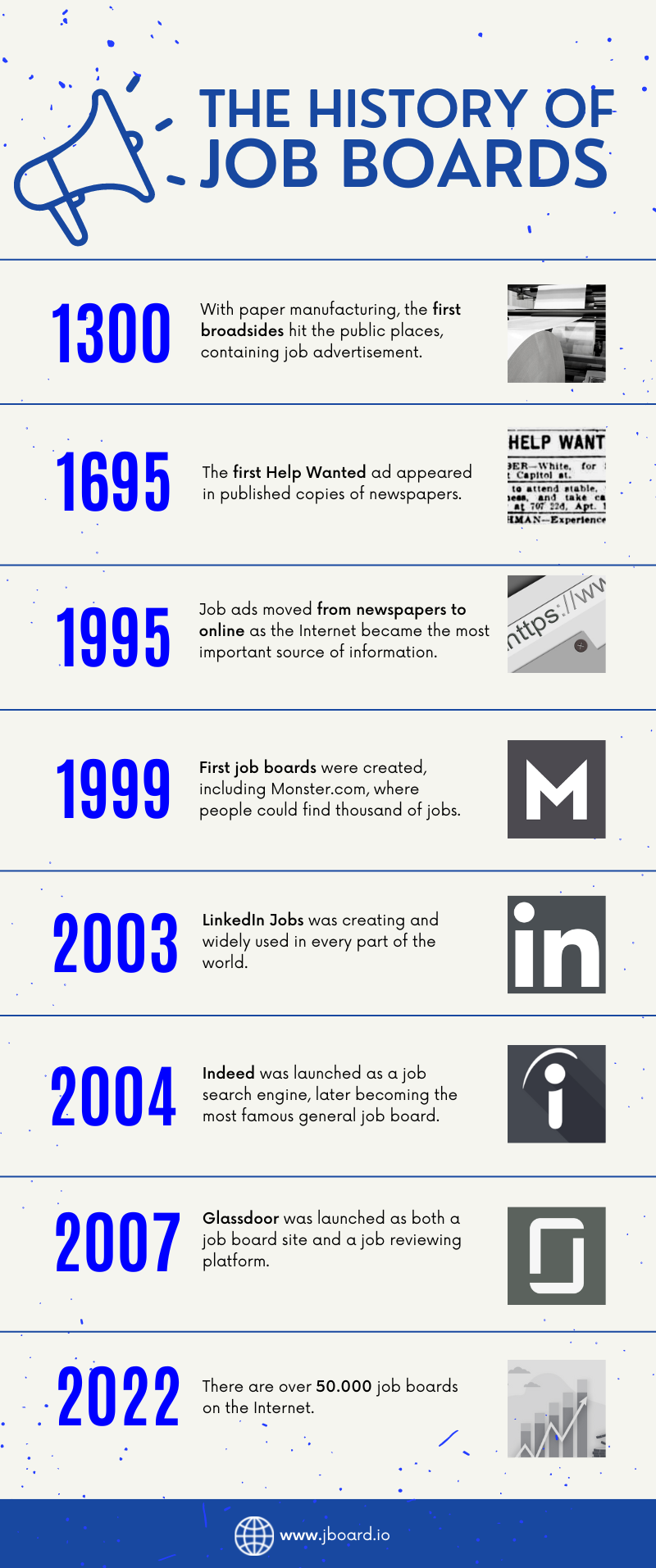 Popular Job Board Examples
There are two types of job boards - general and niche job boards. Below, you'll find the key differences between these two, along with some popular job board examples. Who knows? Maybe they'll inspire you to create your own.
General Job Board Examples
The first job boards were general job boards, where employers of different industries could post any kind of recruitment announcements and where various professionals could find what they were looking for.
This type of job boards are perfect for big companies that constantly have vacancies for almost any kind of role and for job seekers that have a more flexible career or want to change their current one.
On the other hand, because any industry employer can post on general boards, it makes job hunting for specific careers difficult. It's like looking for a needle in a haystack: too time-consuming and difficult to find. For employers, too, it might be hard to find a professional they are looking for since people with different ranges of skills and experience will likely apply for the job. So even if the response rate is high in general job boards, the result is less effective.
Some of the most popular general job boards are Indeed, Monster, LinkedIn Jobs, Glassdoor, ZipRecruiter, CareerBuilder, to name just a few.
Indeed
Indeed is probably the most popular general job board. First launched as a job board aggregator, it was mostly scrapping jobs from various company pages and job boards.
Later, by using that imported content, it managed to become the most visited job site in the world, with 250 million visitors per month.
Even though today Indeed still continues to scrape jobs from other websites, the majority of its revenue comes from paid jobs posted directly on this platform. Since the paid jobs are more visible on Indeed and receive more applications, recruiters don't hesitate to pay for job advertisements on this website.
Monster
Monster is one of the first international job boards, connecting employees and job seekers from different parts of the world. It generates 24 million monthly visitors, offers free and paid job posting options, as well as a rich database.
CareerBuilder
First launched in 1995, CareerBuilder is a famous job board that helps employers hire job seekers from almost every part of the world. They offer an extensive international network, marketing tools, and several job posting packages.


Niche Job Board Examples
Besides general job boards, there are thousands of specialized job boards. Unlike the general ones, these niche job boards are built around one single employment sector, introducing one specific type of job on a single platform. They might have a smaller number of visitors, but employers can quickly find the right candidate. The applicants know what they are looking for, so they are more likely to have the abilities and skills that specific industry jobs require.
A niche job board also makes it easy for both employers and employees to compare the available jobs, information, and candidates related to a particular industry.
Endorse, Flex, and Airline Jobs are some of the good niche job sites where the posted jobs are filtered, making it easier for both parties to find each other without wasting their time.
Airline Jobs
Although Airline Jobs is a relatively new job board, it has already managed to make a name for itself, offering over 25,000 industry-related jobs and easy job posting with just a few clicks.
Endorse
As one of the most popular niche job boards, Endorse is where healthcare agents and professionals from different backgrounds have more opportunities of posting and finding industry-related jobs.
Tech Sales Jobs
Focused on the tech niche, Tech Sales Jobs connects thousands of employees of this industry with big and small companies, such as LinkedIn, Amazon, Zoom, Adobe, Google, HP, and many more.


Top Features All Job Boards Should Have
Convenient Job Posting Flow
Posting jobs is the main function all job boards share; however, sometimes, it might be complicated because of a website's interface. The easier it is to post jobs on a job board, the more enthusiastically recruiters will post their job ads on the platform.
Here are some tips for a better job posting experience that job boards can provide:
Break down the job posting process into several steps so it's easier to fill in the information.
Save the company's data so they don't need to repeat the process.
Offer a job wrapping service, so the employers' jobs posted on their company websites can be automatically imported into the job board.
CV Submissions Made Easy
The more actions users need to complete, the less likely they will get to the last step of completing the application. For job seekers, it's important to apply for a job by simply uploading their CVs or filling in an application with minimal steps. The unnecessary inconvenience might drive them away, and as a result, there might not be enough CVs in a job board's database and, therefore, fewer applications per job posts.
Sending Job Alerts
It's always great to engage old and new visitors, and sending them job alerts is a great way to do it. This way, job seekers will be notified about new vacancies, while employers will be thrilled to have a way of reaching out to their potential employees. Besides, the bigger the email list of a job board is, the more it can charge for a job post.
Monetization Features
These are the most common features job boards use to generate income:
Charging for a single job post,
Charging for a bundle of jobs,
Subscription fee,
Charging for the resume database access,
Charging to feature an employer, and more.
Benefits of Using a Job Board
According to recent reports, the global online recruitment market is valued at around $28.68 billion and is expected to reach $43.39 billion by 2027, which is a really incredible number if you think about it.
So, why is so much money being spent on advertising job postings, and what are the benefits of using a job board for each party?
More and Better Opportunities
A job board is like a direct bridge between employers and job seekers who are actively looking for a job. Here recruiters can find potential candidates that are not in their network, and vise-versa.
Time-Saving and Easy
Due to their user-friendly interface and ATS (Applicant Tracking System) integration, job boards help applicants to complete the process by simply clicking on a few buttons. They are also a good way of researching a particular industry or position. Both job recruiters and applicants can save valuable time and resources without wasting long hours of long processes with candidates and companies that are not suitable for each other.
A Source for Important Database
When candidates apply for a job by uploading their CV directly to a job board post, the platform adds it to their database, later helping recruiters find potential employees, even when those candidates might not be searching for a job at the moment.


Summing Up
The job board industry keeps growing, with thousands of general and niche job board sites being launched every year.
While general job boards collect too many diverse job postings in one place, niche ones are more filtered and organized and present jobs for a specific employment sector.
Niche job boards are also a great business for those who already have an audience or time and skills to grow a job site. To help you easily start a job board, we created jBoard, which allows you to create a job board without any coding in a short period of time. So, you can put your focus and time on growing your own job board instead of spending months developing it.
Create Your Job Board Within Minutes
We provide one platform with all the features you need to start, run, and grow your SEO optimized job board.
Try Free For 7 Days